What to Do in Puebla, Mexico | 32 Tips from an Insider
I've been lucky enough to live in nine different cities around the world, and Puebla is one of my favorites.  I started traveling to Puebla in 2003, and I have spent around a year and a half of my life in this colonial Mexican city, living as a local with a Mexican family and learning what it means to be a Poblano.  Of course, it's hard to convey the essence of the Poblanos with just travel tips, but I can give you insight into their way of life, what they love to eat, and some of their favorite activities in and around the city.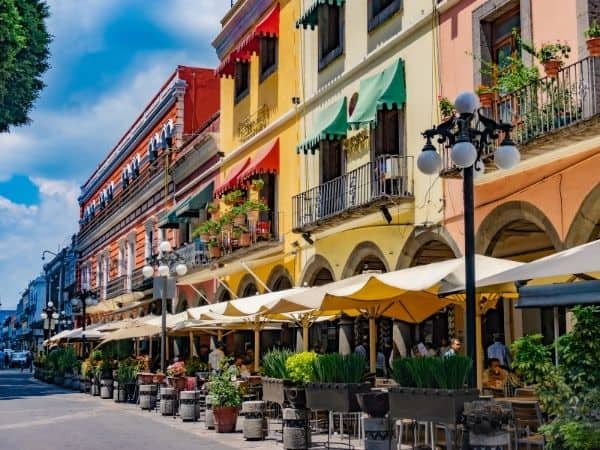 Take a Stroll Through Downtown Puebla
You may think this is a touristy tip, but it's not.  Locals love getting together with their families and taking a stroll through the city.  In particular, you'll see a lot of families in the city center on the weekends, walking with ice cream cones, visiting churches, shopping at those popular Poblano markets, and, of course, making pit stops at restaurants where they can munch down on some of their favorite local dishes.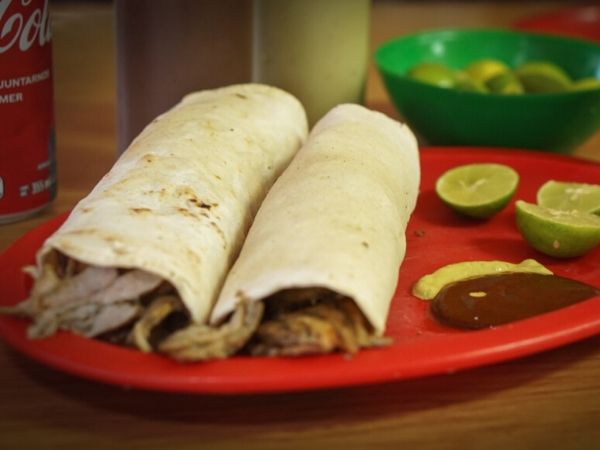 Have Some Tacos Arabes for Lunch
You probably aren't going to find Tacos Arabes in other parts of Mexico.  They are Puebla's taco.  In the 1930's, Tacos Arabes were created by Lebanese immigrants who wanted to sell shawarmas, but ended up making them with local ingredients instead.  Today, these tacos have their own identity and are one of the most popular dishes in Puebla.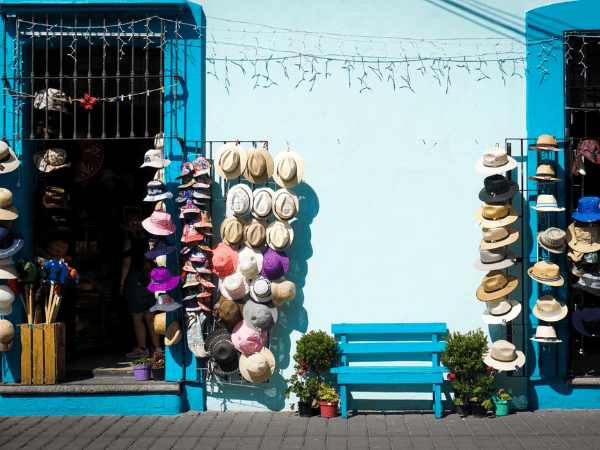 Explore the Charming Town of Cholula
If you visit Puebla, you've got to make the short trip to Cholula.  In fact, if I had to choose between visiting Puebla and Cholula, I'd probably choose Cholula.
Cholula is one of Mexico's magic towns that has a great feel to it.  It's more relaxed than Puebla, and the buildings throughout the city center are colorful and cute, which makes for a nice walk as you are exploring the city and browsing through some of the shops.  Cholula is also known for having the largest pyramid in the world (by volume) and a beautiful golden church that sits atop of it.  Furthermore, if you have a bit of extra time, don't forget Cholula's principal market called Mercado San Pedro Cholula.  You'll be sure to see a few things that will grab your attention.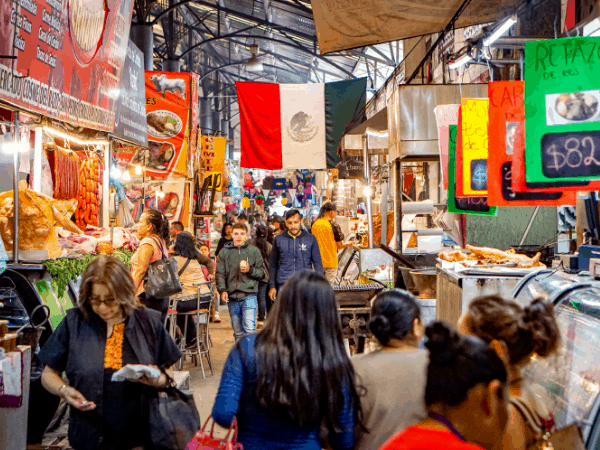 Experience the Different Markets in Puebla
One of the best ways of getting a glimpse into a city's local culture is by exploring its markets, and Puebla has more than enough of those for you to meander through.
Los Sapos and El Parián, which are located in downtown Puebla, are two of the most famous, and while there, you can buy old antiques, traditional clothing, art, those famous Poblano sweets, and Mexican street snacks.
I'd also recommend you to get off the beaten path and explore a more local market such as the Mercado de San Pedro Cholula.  It's one of my favorite markets to walk through, and a place where you'll be sure to see a lot of interesting stuff such as pigs heads, entire chickens hanging from racks, insects being sold as snacks, and much, much more.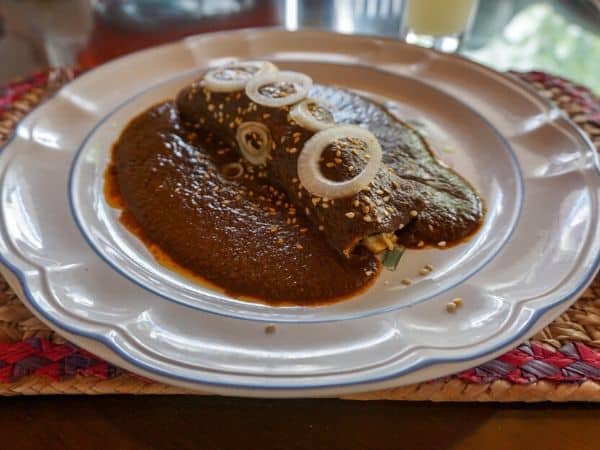 Try Some Mole Poblano
You can't go to Puebla without trying Mole Poblano.  It's the dish that Puebla is most famous for, and one of the reasons why Puebla is a foodie hotspot in Mexico.  Mole Poblano is a cuisine that is believed to date back to the 16th century, and is a dark brown sauce containing about 25 different ingredients, including chocolate, chili peppers, plantains, almonds, cinnamon sticks and pumpkin seeds.
Of course, as you are sampling food in Puebla, don't forget that it's not just Mole Poblano.  Puebla is famous for a variety of dishes, and a lot of them taste better than Mole Poblano in my opinion!
Buy Some Quality Talavera
If you are looking to bring back a souvenir from Puebla, forget those magnet shops and buy some quality Talavera.  Puebla is famous for its Talavera, which in fact, is designated by UNESCO as an intangible cultural heritage.
Something to keep in mind as you are roaming the streets of Puebla and stumble upon Talavera is that there are cheaper copycats everywhere.  If you want to get the good stuff, head to a well-known store such as Uriarte Talavera, Latin America's largest producer that is known for making high-quality, handmade Talavera.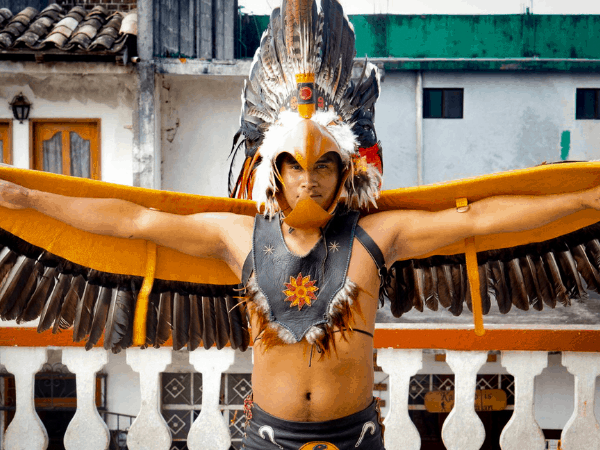 Take a Trip to the Magic Town of Cuetzalan
Cuetzalan is a special place.  In fact, it's probably Puebla's best magic town.  In Cuetzalan, you can escape the stresses of daily life and simply enjoy the nature that surrounds you.  There are caves, waterfalls, mountains, temazcals, and even more that is waiting to be explored.  In the city center of Cuetzalan, you'll find remnants of the past as you watch the Danza de los Voladores and browse through the markets to shop for artisanal goods and traditional clothing.  If you have some extra time in Puebla, Cuetzalan should be on your list!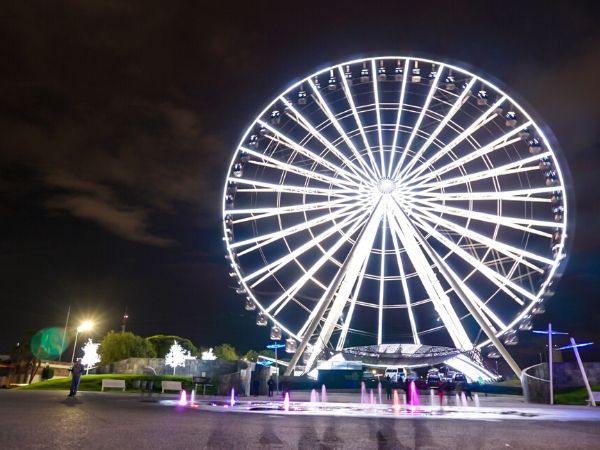 Go to the Zona de Angelopolis at Night
It's not just the gigantic ferris wheel.  The Zona de Angelopolis is lined with nice restaurants, hip bars, coffee shops, and Puebla's best mall.  The atmosphere there is nice, and it's certainly one place where you can find Puebla's "cool" people hanging out at night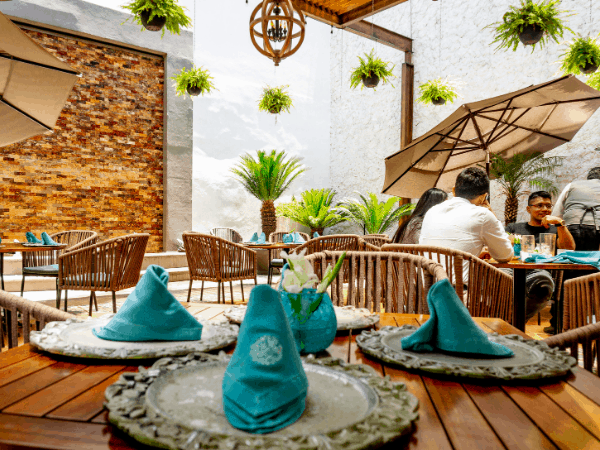 Eat at a Traditional Poblano Restaurant
If you come to Puebla, you have to try the local food.  It's what Puebla is famous for and why the city is one of the top foodie destinations in all of Mexico.  Having said that, if you want the best quality food, you can't just eat anywhere.  If you choose some random restaurant, you may end up feeling underwhelemd by your experience.  Therefore, stick with some of Puebla's best known traditional restaurants such as El Mural de Los Poblanos, CasaReyna, and La Casa del Mendrugo.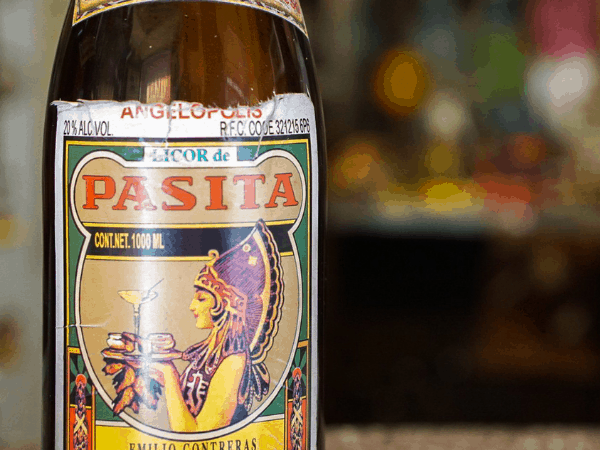 Drink a Pasita
We've talked a lot about food, but what about drinks?  One of the most famous in Puebla is the Pasita, which is a liquor made with raisons and served with a slice of goat cheese.  It's strong, but it's tasty, and the best place to drink it is the bar where it was first served, La Pasita.
Visit Los Sapos on Sunday
With its colorful buildings and Spanish architecture, Los Sapos is one of Puebla's most instagramable spots.  Strolling through its streets any day can be beautiful, but if you want to go when Los Sapos is truly buzzing, you've got to head there on Sundays when the market is opened.  You'll find locals selling all kinds of antiques, artwork, books, and of course, a few Poblano treats as well.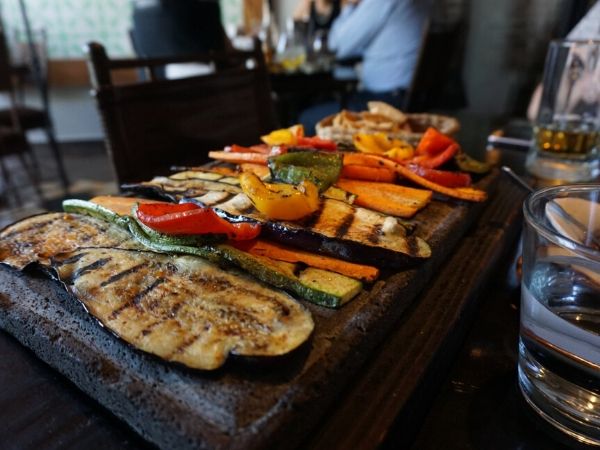 Have Lunch on the Avenida Juarez
The Avenida Juarez is a street that is packed with good restaurants (and some bars!) that the locals frequent.  I think what makes the restaurants along the Avenida Juarez stand out is that they are more upscale.  It's a different vibe than what you'll find in other parts of the city, and most importantly, the food is not bad!
Discover Puebla's Hot New Nightclub or Bar
If you wanted to write an article about Puebla's best nightclubs, it'd be nearly impossible.  What's hot in Puebla now, will be an afterthought in 6 months.  Poblanos are always searching for the new, cool thing, which means that the most popular clubs or bars today may not even exist in a year.   Therefore, if you are trying to figure out what bar or nightclub to head to, talk to a few different locals when you get there and ask them for their recommendations, instead of just relying on outdated internet research.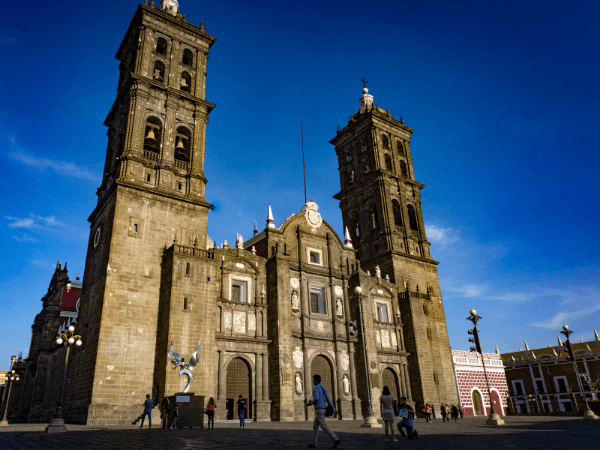 Visit Puebla's Famous Cathedral
You probably aren't going to miss Puebla's most iconic landmark.  La Catedral de Puebla is located in the center of the city, and has a way of inviting most visitors in.  It's considered one of the most beautiful cathedrals in Mexico, and one of the reasons why Puebla's city center was named a UNESCO World Heritage Site.
Experience Mexico at the Feria de Puebla
Almost every city has a big festival, and Puebla's is the Feria de Puebla.  Every year between the months of April and May, you can stumble upon this huge fair that takes place at the Historic Area of Los Fuertes, which is quite close to Puebla's city center.  Once there, you'll find all of those typical fair rides, games, and sweets.  Yet, it's not just a normal kind of fair that you can find anywhere.  The Feria de Puebla also offers insight into various cultures around Mexico.  You can attend concerts showcasing famous Mexican singers, check out art work from various indigenous cultures, go to a Lucha Libre fight, and even watch a rodeo.  The experience can be as cultural (or not cultural!) as you want it to be.
Hike to the Top of La Malinche
One of the first things any visitor will notice when they arrive to Puebla are those massive volcanos encompassing the city.  They are not only beautiful and nice to look at, but they also provide an escape from Puebla for those who are more nature inclined.
One of the most popular mountains for Poblanos to visit is La Malinche.  It's relatively close to the city, offers cabins for visitors who are planning to stay overnight, and most importantly, is a volcano that has been dormant for over 3,000 years.  Therefore, climbers can not only hike to the top of the mountain, they also can be a bit more relaxed that La Malinche isn't going to explode at any second (as opposed to the active Popocatépetl!).
While at La Malinche, there are an array of activities for various types of travelers.  Once there, you can have a BBQ , rent a cabin, experience a temazcal, and of course, take the eight hour hike up and down the mountain.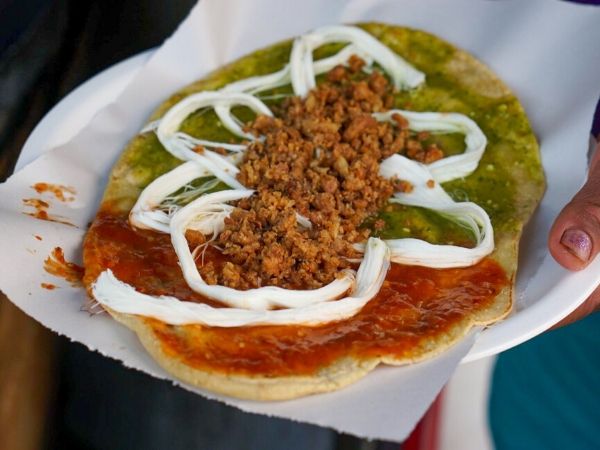 Eat a Memela for Breakfast
When you think about breakfast in Puebla, it's hard not to think about Memelas.  This street food favorite is a must for anyone who visits. They are cheap and delicious, and if you want to try them, just ask the locals where to go (there are memela stands all over the city).  You can also check out my article about what to eat in Puebla for more food recommendations.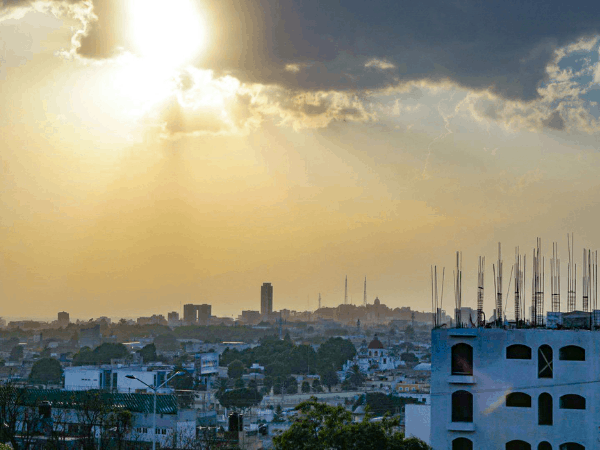 Discover the True Origins of Cinco de Mayo
This may come as a surprise to you, but Cinco de Mayo is only celebrated in Puebla, and not in the rest of Mexico.  A large group of Americans believe that Cinco de Mayo is Mexican Independence Day, but it's actually a holiday that commemorates Mexico's victory over the French army in the Battle of Puebla in 1862.  You can learn more about this battle and Cinco de Mayo at the Zona Historica de Los Fuertes, a park that showcases museums, monuments, and historical landmarks. Also, if you are there late enough, it's probably one of the best places in the Puebla to watch the sunset.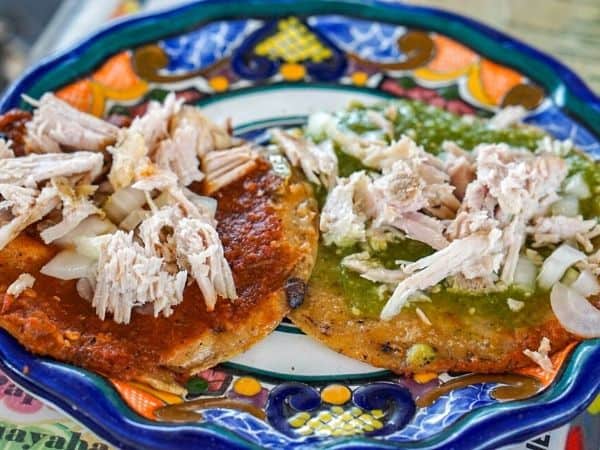 Sample Poblano Dishes at the Mercado de Sabores
If you want to eat something local, but can't decide where to eat, just head to the Mercado de Sabores, a market with around 130 stalls that serves Puebla's best known food like mole, pipian, chalupas, and tacos arabes.  The market is somewhat close to Puebla's city center, which makes it a convenient place to have lunch.
Go on an African Safari
I normally wouldn't recommend that you to go to a zoo while traveling (I mean, we have zoos everywhere), but Africam Safari isn't your normal zoo either.  It's a zoo where you can actually go on a mini "safari" and drive through various animal habitats.  There are over 2,500 animals, including giraffes, hippos, tigers, lions, flamingos, and much more!  Also, the cool thing about Africam Safari is that animals are given a lot of space to roam, and you are able to see them in a more natural setting .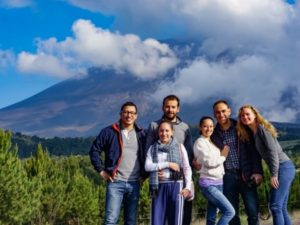 Get as Close as You Can to the Popocatapatl
One thing you cannot escape while visiting Puebla is the beautiful, yet intimidating Popocatépetl, an active volcano that can be seen from the city of Puebla on a clear day.  If you'd like to explore the Popocatépetl, the closest you can get is the Paso de Cortes, the mountain pass between the Popocatépetl and its neighboring volcano Ixtaccíhuatl.  While there, you'll have some stunning views of the volcanos and surrounding nature.  You'll also be close to hiking trials, cabins where you can stop for a bite to eat, and the National Park Izta-Popo where you can go even deeper into the nature.
Start Your Day with Breakfast in Cholula
A lot of people head to Cholula later in the day to check out the pyramids, cute town, and it's well-known market.  However, I'd make sure to begin my day there.  Cholula is one of my favorite places to have breakfast in Puebla.  The vibe in the town is more relaxed, and Cholula offers plenty of restaurants that are sure to leave you satisfied afterward.
The Plaza de la Concordia is my go-to place for breakfast.  They've got a bunch of restaurants lined along the plaza.  Also, since it's warm all year, you can sit outside and enjoy the view and possible appearance of a mariachi band.  Apart from the Plaza de la Concordia, there are great breakfast places scattered throughout Cholula that are worth a visit such as the La Tertulia Desayunos y Almuerzos.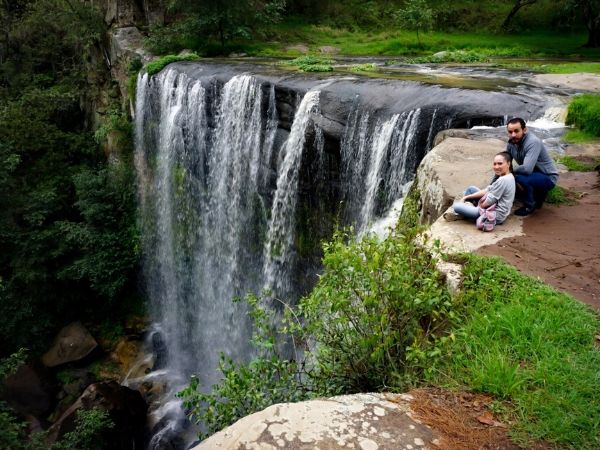 Visit the Magic Town Zacatlán
Zacatlán is one of Mexico's "Pueblo Magicos" or magic cities.  It's a little over two hours away from Puebla, and a great escape for those travelers who are wanting to get out of the city.  While there, take time to explore the calm city of Zacatlán.  You'll find restaurants with regional drinks and specialities.  There's also a number of cute shops selling traditional clothing and other local items.
My favorite part of Zacatlán, however, are the cabins you can rent outside of the town.  They are surrounded by nature, and are a perfect romantic escape for you and your partner.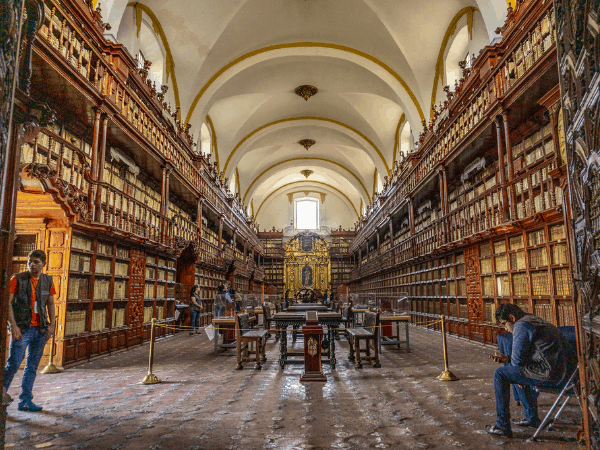 Stop by the Oldest Library in the Americas
One of the coolest sites in Puebla that tourists seem to gloss over is the Biblioteca Palafoxiana, which is the oldest library in North and South America.  It was built in 1646, and showcases books from over the past 600 years.  For visitors, it doesn't take long to tour through the library, but it's well worth the stop.
Join the Walkers and Bikers on Sundays
If you are looking for an opportunity to get out and be with the locals, this is a good one.  Every Sunday, the Avenida Juarez is closed so that people can ride a bike or take a walk down the avenue.  Poblanos will do this to get some exercise or spend time with friends and family, and perhaps it gives you the opportunity to make new friends as well!
Enjoy Puebla's Upscale District of Sonata
If you are looking for something a little more modern and upscale, head to Sonata, one of Puebla's newest districts.  Sonata is basically a little city of its own, and is going to give you a much different feeling than the colonial center of Puebla.  Once there, you'll discover good restaurants, fun bars, malls, nice supermarkets (especially for those of you who are gluten free!), karaoke and more.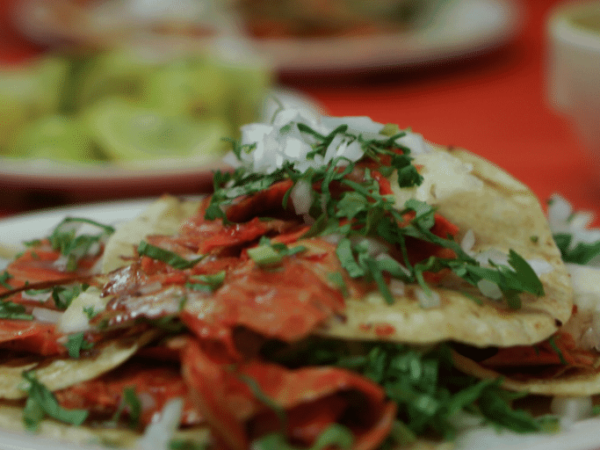 Snack on Tacos al Pastor at Night
Tacos al Pastor are important for Mexicans.  In fact, it's one of the best late-night snacks that you can get in Mexico.  When I was younger, my friends and I would frequent the taco stands before going to the nightclubs or having coming back from a movie.  Tacos al pastor are cheap and simply delicious!
Having said that, my favorite tacos al pastor are actually located in Cholula, which makes it the perfect snack before bar hopping or clubbing in this magic town.  Most people call the taco restaurant Tacos Al Tigre, and it's an outdoor taco stand that is located next to the Iglesia Adventista del Séptimo Día in Cholula.  Just make sure you don't arrive before 8:00 p.m. They won't be open yet.
Sing Your Heart Out at Puebla's Karaoke Bars
If you are not into nightclubs and are looking for something a little more low-key, Puebla's karaoke bars might be a better alternative for you.  Karaoke bars are super popular in Puebla with the locals, and can be found scattered throughout the city.  Even if you probably shouldn't be singing in public (like me!), you'll end up having a great time anyway.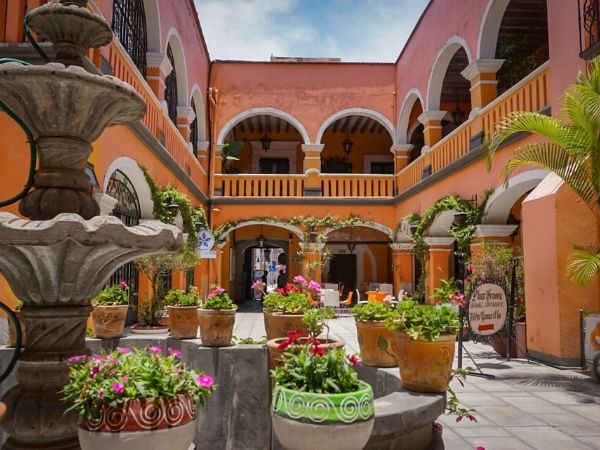 Head to Atlixco for Mexico's Best Climate
They say that Atlixco has one of the best climates in Mexico, but that's not the only reason why you should visit.  Atlixco is a small, charming town 40 minutes south of Puebla.  It's a nice escape from the more hectic city life in Puebla, and is a great place to relax, stroll around the city, and have a delicious meal.  Locals from Puebla like to rent houses in Atlixco for the weekend where they can barbecue, swim, and just hang outside with friends and family.
Another side of Atlixco that you won't want to miss is the vegetation.  Atlixco's climate allows the growth of all kinds of plants and trees, which makes the nurseries along the street Heroes del 4 de Mayo an intriguing stop for the tourist.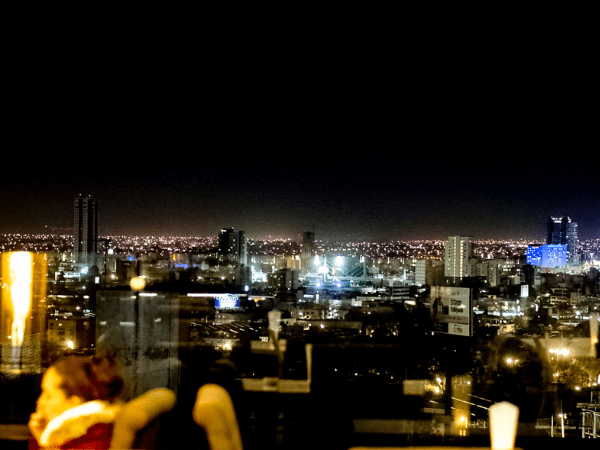 Drive Up to Cerro de La Paz for a Nice View
One of my favorite things to do when I lived in Puebla was to head up to the top of Puebla's small hill, Cerro de La Paz, and soak in the view at night.  At the top, you'll find the church, Iglesia del Cielo, along with a small park you can hang out in.
It was a fun nighttime activity for us, but I do also want to mention that times have changed.  A lot of trees have grown (and some buildings too!) that now block most of the great view we once had.  Furthermore, Puebla's not as safe as it use to be.  So, you'll have to keep that in mind and be more cautious, particularly at night.  Another alternative could be to eat at a restaurant on the hill, which will give you not only the nice view, but a safer feeling as well.
Yes. Go to the Movies
This sounds like a strange recommendation.  I mean, you can always go to the movies, right?  Well, the cool thing about going to the movies in Mexico is that it's very cheap.  It's also a very local thing to do!  Poblanos love to go to the movies, especially to movie theaters in malls like Angelopolis where they can shop, hang out with friends, and have a bite to eat before they catch their movie.  It's a social thing for them, and a great opportunity for you to relax and escape the non-stop sightseeing that probably has you a little more tired.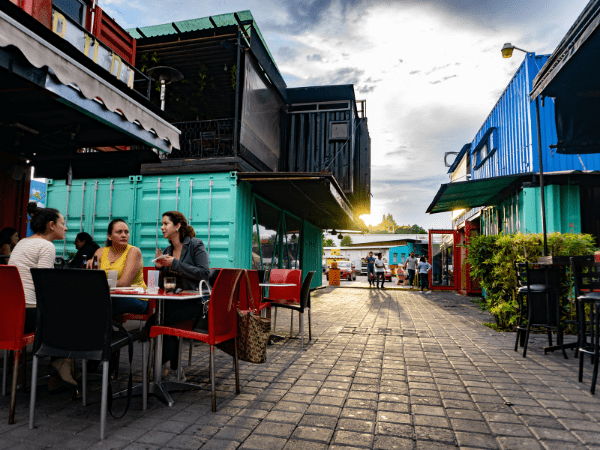 Head to Cholula for a Night on the Town
Where there's a university, there'll be good parties.  That's why you can always count on Cholula to have an array of bars and nightclubs.  One of the best streets for nightlife is Calle 14 Ote., which is directly across from the university.  I've probably been to over 10 different bars and nightclubs just along that street (especially in my crazier, younger days!).  Another popular choice for nightlife in Cholula is Container City, an area with multiple bars that have been made out of shipping containers, and a neat place to relax and hang out with friends.  Apart from these two areas, Cholula has cool bars and a few good nightclubs scattered throughout the rest of the city as well.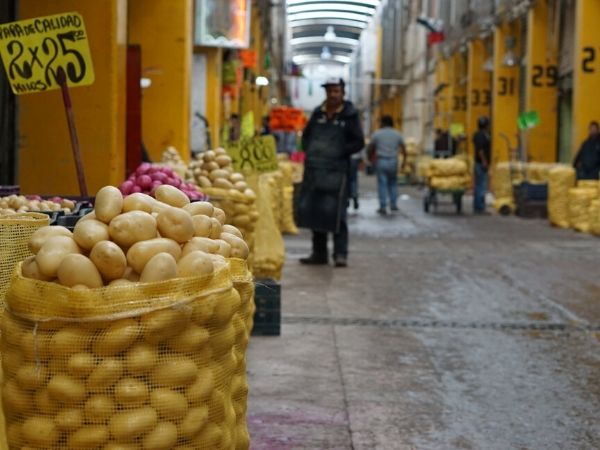 Stay Safe
You are probably not going to have any problems during your trip in Puebla.  It's one of the safer cities in Mexico, and tourists are usually fine while they are sightseeing around the city.  However, it's important to note that, due to the drug wars, Mexico has become more and more dangerous over the years, and Puebla has not escaped the repercussions of this.  Therefore, I'd recommend you to enjoy your visit, but to also be smart and cautious.  Be careful about what kind of taxis you take, and be more alert at night, especially if you are going out and drinking.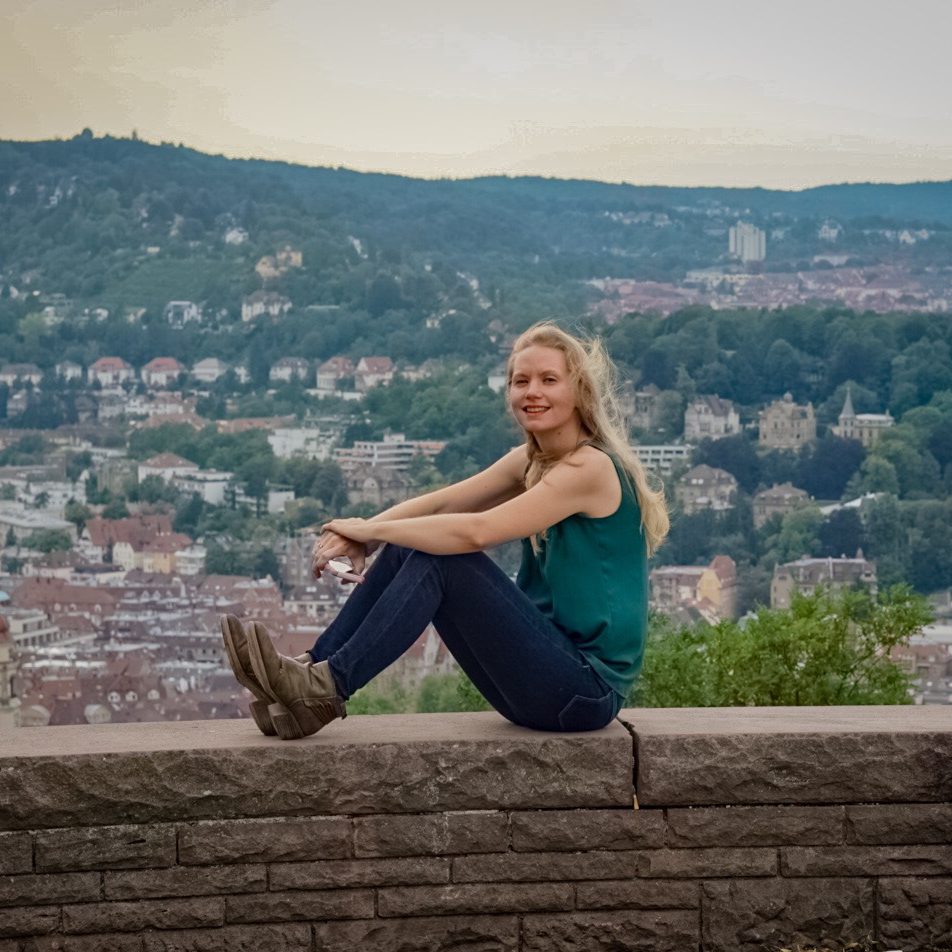 Natalie is the creator of this website, Tourist 2 Local, and has a huge passion for traveling and learning about other cultures.  She enjoys diving deeper into the places she visits and is curious about the various foods people eat, languages they speak, and the different traditions and customs people partake in around the world.  Apart from traveling, Natalie is a fierce board game player, an English teacher, and someone who is interested in just about every sport and activity.