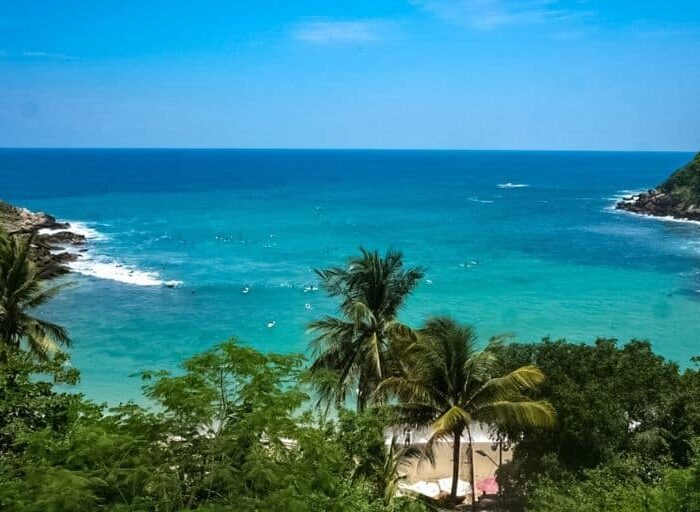 18 Ways to Have an Unforgettable Trip to Puerto Escondido, Mexico
I write a lot on this website about how to travel more like a local in various destinations around the world.  The goal is to always get you (my readers) a little more off the beaten path by helping you to go beyond the touristic areas and experience more of the local life.
I found this goal a bit more challenging in Puerto Escondido, because it's truly a touristic destination.  The purpose of going to a place like Puerto Escondido is to relax on the beach, surf, and do all of those fun and unique touristic activities that the coastal town is known for.
Nevertheless, I did manage to do some digging, and after talking to different locals and getting a bit of their insight, I was able to create a list that highlights not only those fun and touristic activities, but speaks to how you can participate in the local culture as well.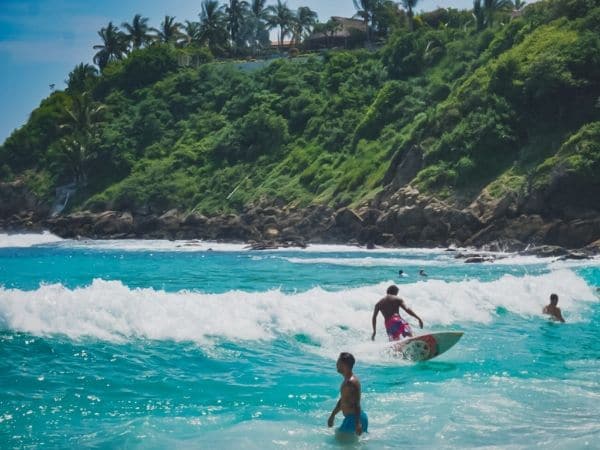 Learn How to Surf at Playa Carrizalillo
Puerto Escondido is known as one of the top surf destinations in the world for professional surfers, but it's also a great place to actually learn how to surf.  One of the best beaches for that is the beautiful Playa Carrizalillo.  Not only is it easy on the eye, but the waves are small enough for the most virgin of surfers.
Being a newbie myself, I decided that the best approach would be to take some surf lessons.  So, I ended up going with Chenek Surf School, which is a group of surf instructors located directly on the beach.  It was a fun experience that I enjoyed a lot, and I was surprised that I was able to get up on the board so easily!  I even road a few waves all the way in.  Good times!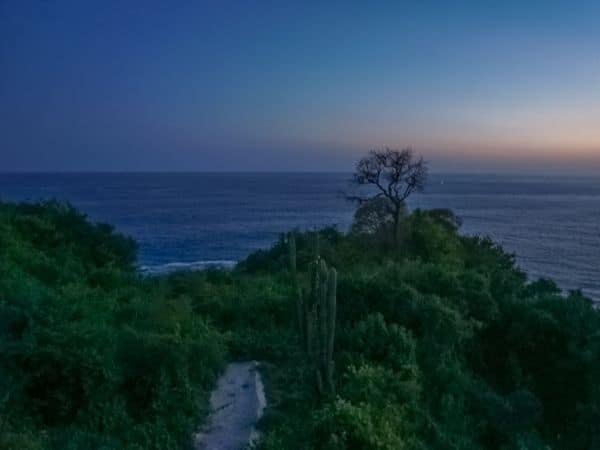 Have a Sunset Dinner at the Espadín Restaurante
If you are looking for a restaurant that serves delicious food and has a great view, then El Espadín is a must.  I can't think of one thing I could  complain about.  The service was excellent, the decor of the restaurant was beautiful, the location was perfect, and the food was fantastic.  It's really the perfect place to go on a romantic date (although I'd go there with my family and friends as well).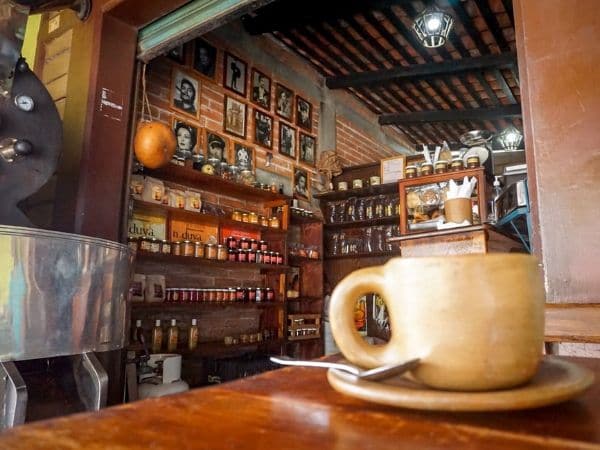 Taste Some Oaxacan Coffee and Hot Chocolate
One way to experience more of Puerto Escondido and it's region is simply by drinking hot chocolate and coffee.  So hard, right?  Oaxaca is known for it's coffee and cacao, and there are some really cute cafes where you can try their regional flavors.
I personally ended up going to Cafe N'duva, a cute local and organic coffee shop located in the middle of the city.  I loved the vibe of the place, and the owners were very kind.  Not to mention that the hot chocolate I had was delicious…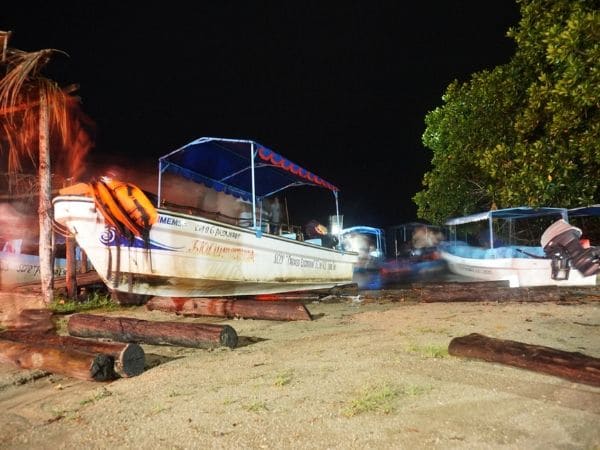 Experience Bioluminescence at the Laguna de Chacahua
One of the most unique things that you can do in Puerto Escondido is to swim in those magical waters at the Laguna de Chacahua.  There you can directly experience bioluminescence, a phenomenon that occurs when living organisms produce light.  What this means is that, when you swim in the water and touch these organisms, they actually light up and make the water turn a whitish blue color.
It's a neat thing to do, and I have to say that swimming in those magic waters made me feel like a kid again.  I found myself just playing in the water and being fascinated with those blue dots appearing on my body, the changing water color, and even the texture of my skin as it started to feel a little more slimy.
The easiest way to experience bioluminescence at the Laguna de Chacahua is to use a tour company to bring you to the lake.  They'll pick you up at your hotel and arrange for a boat to take you out on the water at the Laguna de Chacahua.  The tour company I used and would recommend is Eco Adventures Puerto Escondido.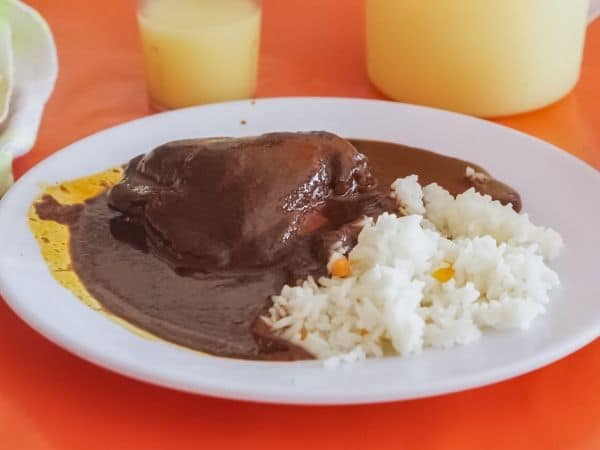 Try Traditional Oaxacan Cuisine at Las Juquileñas
From tour guides to pharmacists, I asked a lot of the locals for restaurant recommendations when I was in Puerto Escondido, and almost everyone told me to go to Las Juquileñas.  It's a more economical restaurant that is known for its' traditional Oaxacan food.  When I was there, I tried the typical Mole Negro (pictured above) which seemed to be the most popular mole around Puerto Escondido.  The meal was good, and I loved that Las Juquileñas is more off the tourist track.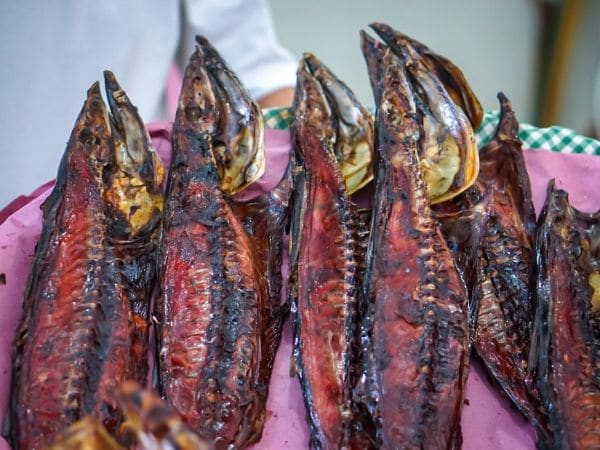 Buy Local Foods at the Benito Juarez Market
If you've had one too many tacos and feel like you need more healthy food in your life, a great place to pick them up is at the Benito Juarez Market.  There, you'll find all of the local fruits, vegetables, cheeses, meats, and maybe even grasshoppers!  It's a great way to support the local community in Puerto Escondido, and also get a little more nutrition in your life.
Start Your Party at El Adequin
I spoke with a few different locals, and they mentioned that, when it comes to nightlife, they seem to gravitate more toward El Adoquín, a street lined with stalls and shops selling just about everything to the tourists.  Yet, even though the shops are more touristic, it seems as though the bars behind them attract more of the locals.  The best nights to party it up in El Adoquín are Wednesdays to Saturdays where you'll find a mix of bars boasting different styles of music such as  salsa (Congo Bar), banda (Dubai discoteca), reggaeton and karaoke.
The more touristic party area seems to be along the Avenida del Morro, where the Zicatela beach is.  I've never been, but I've heard that one of the best bars in that area is Playa Kabbalah.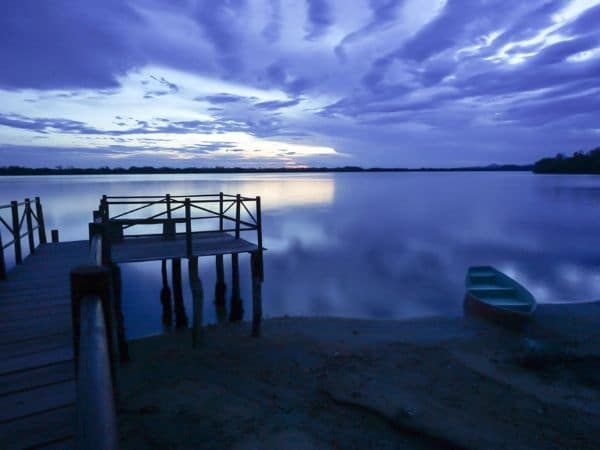 Explore the Wildlife at the Laguna de Manialtepec
I don't think that I've seen so many birds on a lake, ever!  Lake Manialtepec is just a short trip outside of Puerto Escondido that will offer you a change of scenery, and a chance to really see more of that coastal wildlife.  While you are there, you can take boat tours, go kayaking, do stand up paddle boarding, or even go on a  bioluminescence tour.  It's a great way to get out and really engage with the nature.
If you want to head out to Laguna Manialtepec, but aren't sure exactly where to go, you can head to La Puesta del Sol.  It's very relaxing and I found it to be a little more off the beaten path, which I always prefer.  They have a restaurant and you can also grab a boat, kayak, or paddle boards there.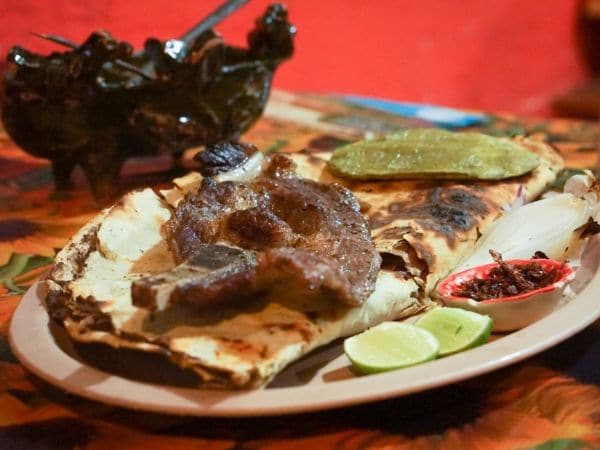 Have a Tlayuda for Dinner
One of the more well-known Oaxacan dishes is called Tlayudas. So naturally, I was on the hunt for a great place to eat them.  One of my tour guides suggested that I go to his favorite place,  Tlayudas Las Chinas Oaxaqueñas, which made the Tlayuda in the picture above.  As you can see, not only do you get a Tlayuda,  but it also comes with a piece of meat (tasajo meat is quite common), a nopal, and some grasshoppers.  Apart from the food, I also loved the restaurant's design, atmosphere, and friendliness of the staff.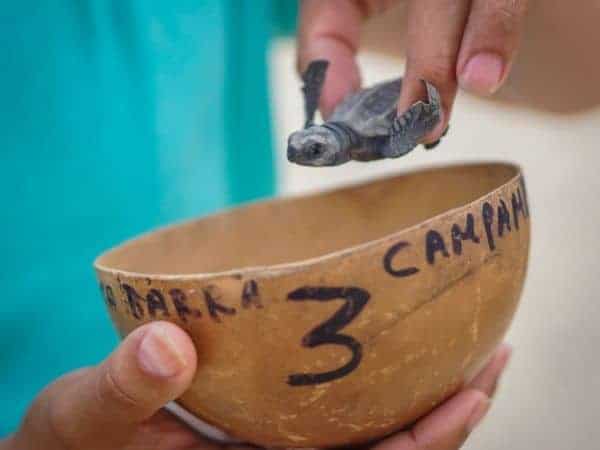 Help Release a Baby Turtle into the Sea
This was such a cute activity!  If you get a chance, you should definitely do a turtle release.  Whether you are with friends, family, or even your partner, it'll be one of those experiences that you're not going to forget.
The easiest way to do a turtle release is to hook up with a local company.  I teamed up with Eco Adventures Puerto Escondido, who picked us up at the Airbnb and drove us out to the beach for the turtle release.  After helping our baby turtles make it safely to the ocean, we even ended up making a spontaneous pit stop on the way back to our Airbnb, where our tour guide drove us to a hidden lookout of the city of Puerto Escondido that hardly any tourists know about.
Eat Grasshoppers
Yes, you read that right.  Grasshoppers (chapulines) are actually a pretty popular thing to eat down in Puerto Escondido.  Of course, they are spiced up a bit, which makes them quite edible.  And if you are worrying about where to find them, well, they are pretty much everywhere.  You can find locals selling chapulines on the streets or you can even try some at certain restaurants.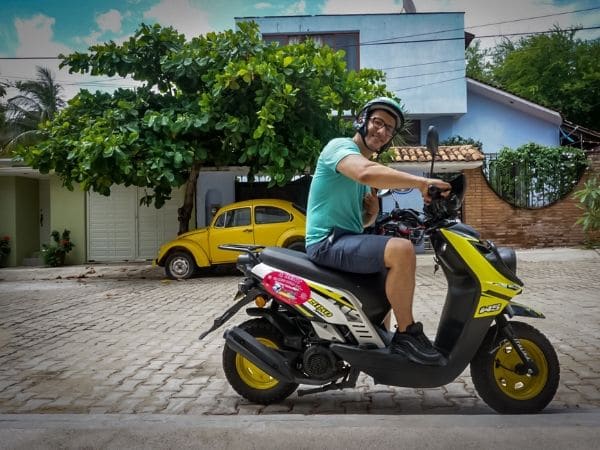 Get to Know Puerto Escondido by Scooter
I always think that, whether by bike or by scooter, it's always great to get out of your neighborhood, and explore the other parts of the city.  A lot of times, as tourists with no cars, we tend to stick around the area our hotel is located in.  But, renting a scooter is easy, and it's a fun way to not only get out and explore the city of Puerto Escondido, but some of the other gems located outside of the city as well.
The place I rented the scooter from is called Excursiones Turisticas de Valfred.  It's right by the Playa Carrizalillo.  So, if you are staying in the Rinconada neighborhood, it's a great place to pick up your scooter rental.
Eat an Embarrada for Breakfast
If you are really looking to eat breakfast like a local, go have an embarrada at Los Antojitos Fabi.  It's a hole in the wall type of restaurant that the locals love, but the tourists would never stumble upon.  So, not only will you be assured of having an authentic and local breakfast experience, you'll also get some good and cheap food.
Oh, and by the way, if you can't find the restaurant in google maps, well, neither could I.  You've got to scout it out the old-fashioned way.  Head down the street Camino a Puerto Angelito to the beach, and it will be on the right side of the street.  If you can't find it, just ask the locals.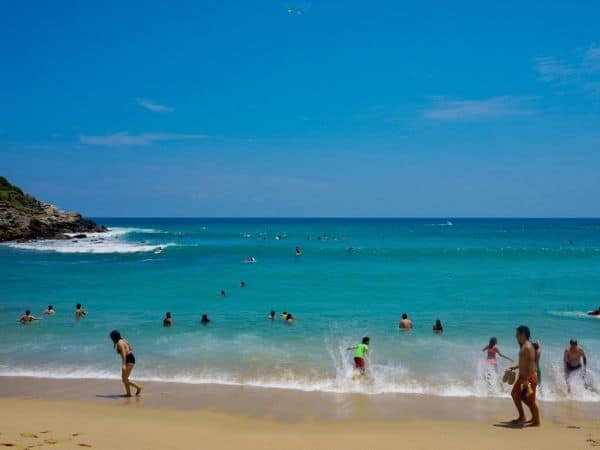 Swim in the Crystal Clear Waters at Playa Carrizalillo
I went to all of the main beaches in Puerto Escondido, and my personal favorite was La Playa Carrizalillo.  It is not only the prettiest, but it's also a nice beach for swimming, surfing, and just relaxing.
After spending some time down by the water, climb up the stairs and head to the Rinconada district.  There are some fantastic restaurants up there waiting for you.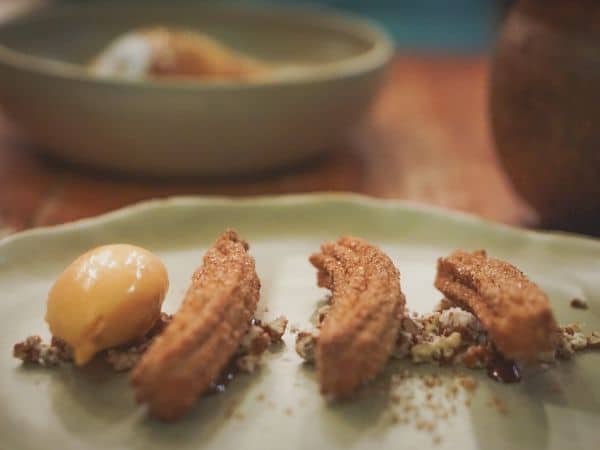 Discover the Best Chef in Puerto Escondido
If you are looking for the best food in Puerto Escondido, then you have got to head to Almoraduz Cocina de Autor.  All of the dishes were unique and a fresh new take on some of the most popular cuisine from the region.  They also all just happened to be delicious. It's obvious that the chef, Quetzalcoatl Zurita, knows how to perfectly combine distinct flavors into his dishes that will leave his guests wanting to come back again and again.  This is easily the best restaurant I've been to all year, and if you get a chance, eating there is a must.
Watch the Surfers at Playa Zicatela
This recommendation is for all of those surfing newbies like myself.  Unfortunately, the waves at Playa Zicatela are just too big for us beginners.  However, we still have the opportunity to watch those that are more advanced, which can also be quite entertaining, especially if the waves get big enough.
One morning, I sat out at the Zicatela beach, watched the surfers while having a drink, and then relaxed by getting a massage on the beach.  Not a bad time…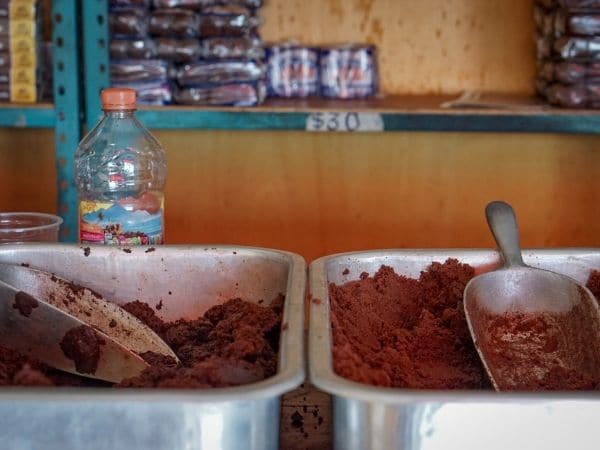 Buy Some Oaxacan Cacoa
As I mentioned before, Cacao is a big thing in Oaxaca, and if you are looking to bring some home with you, then check out the local shops next to the Benito Juarez market.  There, you'll be able to try various types of chocolate and buy whatever suits your taste.
If You are Missing Your American Breakfast...
I saw a lot of recommendations for El Cafecito before I went to Puerto Escondido, so I was definitely curious about it.  I would say that, after a couple of visits, El Cafecito is a solid place to go, especially if you are missing that delicious American breakfast food.  They also have some traditional Oaxacan food if you are up for trying something a little more local.