San Sebastian, Spain | 26 Super Fun Ways to Experience San Sebastian Like a Local
San Sebastian is one of my favorite cities in Europe.  Its' charming city, beautiful beaches, picturesque landscapes, and intriguing culture make it an ideal destination for almost any traveller.  Personally, if it weren't for the rain, I'd probably even consider moving there permanently.
As I was younger, I was lucky enough to have the opportunity to live and work in San Sebastian for a year.  I spent that time meeting locals, learning some Basque, and diving into their unique culture Fortunately for you all, I gained a lot of insight into the Basque Country and it's people during that year, and will share some of my tips that will help you become a little more local in San Sebastian.  Of course, everyone already knows about La Concha, Mount Igueldo, and the pintxos.  So, I will pass over some of this more touristy advice, and get more to the heart of what it means to be Basque.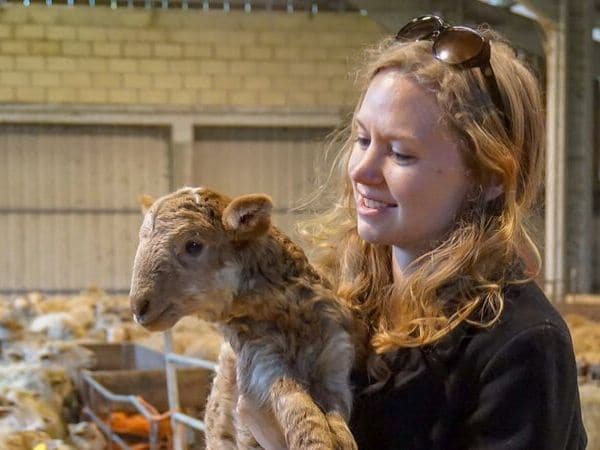 Visit a Basque Farm
Visiting a local farm may initially sound like an unusual travel tip for San Sebastian, but it is actually one of the best ways that you can connect more to the local Basque culture.  Out of all of the places that I've lived, the Basques seem to be the most connected their farms.  In fact, two of my best friends in the Basque Country both had small farms with animals (just for fun).
A great way to explore the Basque Country farm culture is to take a tour to one of the local farms.  The last time I was there, I went to the Adarrazpi Cheese Farm where you learn how they make their famous Idiazabal cheese (my favorite!).  We also got to pet the adorable baby sheep.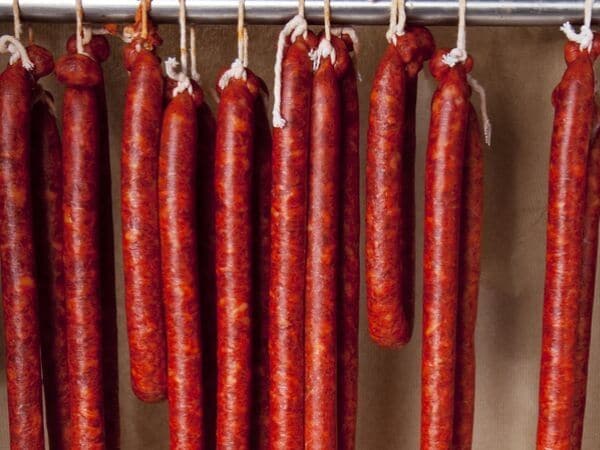 Taste Some Delicious Chistorra
Yumm!  Chistorra (txistorra in Basque) has to be one of the best sausages I have ever eaten.  The best way to eat it is as a sandwich (also called bocata) or as a pintxo.  Also, if you happen to be in San Sebastian on December 21st, don't miss out on the Fair of Santo Tomas.  It takes place every year and that delicious chistorra is the highlight of the festival.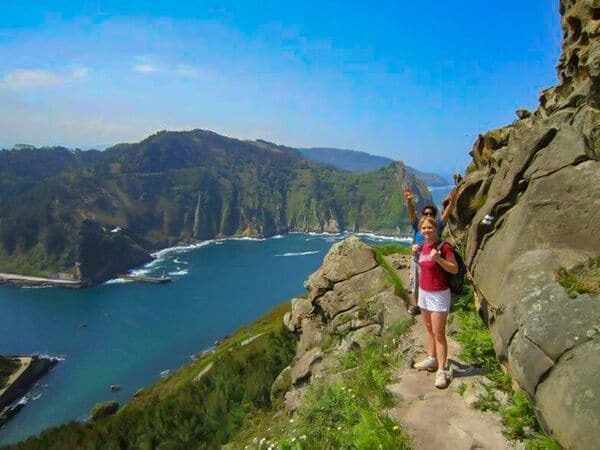 Hike the Camino de Santiago
The best way to experience the beautiful nature around San Sebastian is by taking a hike.  And, fortunately, for those visiting San Sebastian, the famous Camino de Santiago trail runs directly through the heart of the city.  Personally, my favorite part of the Camino de Santiago is the stretch between Pasai Donibane and Hondarribia.  It's about a six hour hike with beautiful views along the coast.  The towns are also easily reachable from San Sebastian by bus.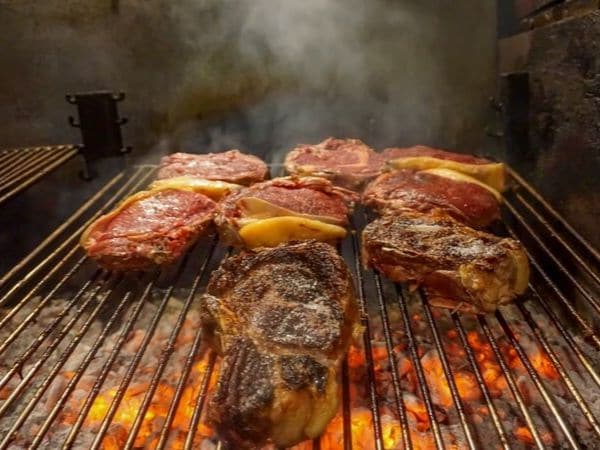 Experience a Basque Cider House
One of the best cultural experiences you can have around San Sebastian is going to a cider house in Astigarraga.  Between the months of January and April, the cider houses in the village are packed with locals looking to sample various ciders and devour that mouthwatering steak (txuleta) the cider houses are so well known for.  It's also a great opportunity for us tourists to socialize with those more shy Basques.  With cider houses really being a mix between a restaurant and a bar, you'll probably end up being away from your table most of the night, which makes it easier to converse the locals and make new friends.  It's a fun experience, and hands down, one of my favorite this to do in the Basque Country.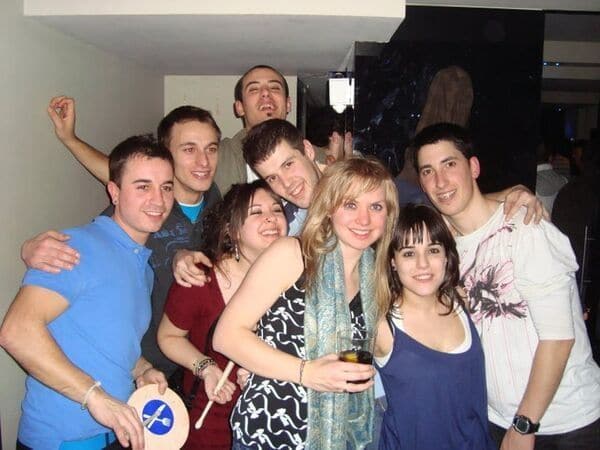 Go Bar Hopping in the Parte Vieja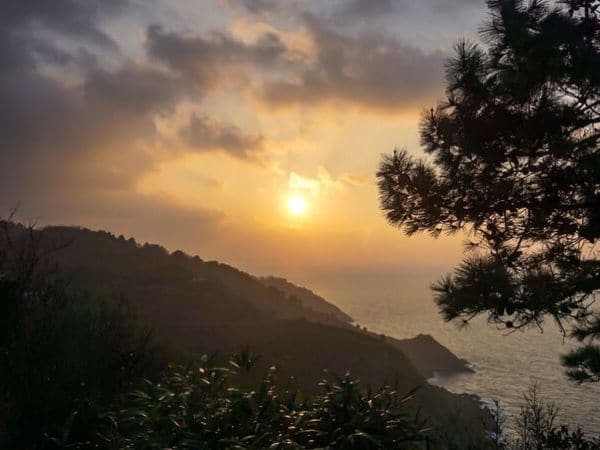 Watch the Sunset at Monte Igueldo
If you are looking for that iconic view of San Sebastian, then take the funicular up to Mount Igeldo. Once you are up there, you'll not only take in some beautiful views of the city, but you'll also find a small amusement park and a restaurant as well.  My favorite time of the day to go up there is around sunset, not only because it's the perfect place to take some amazing pictures of the sun going down, but also because it was less crowded at that time.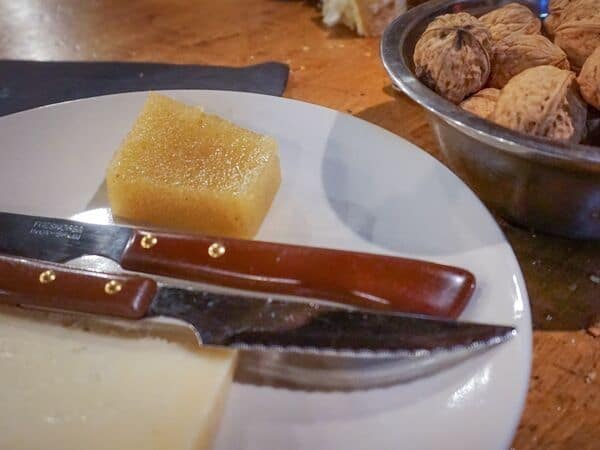 Have Some Idiazabal Cheese and Membrillo
I love love love Idiazabal cheese and membrillo!  It is eaten as a desert in San Sebastian, and without question, is one of the foods I miss the most.  The best places to try Idiazabal cheese and membrillo are at the pintxo bars and the cider houses.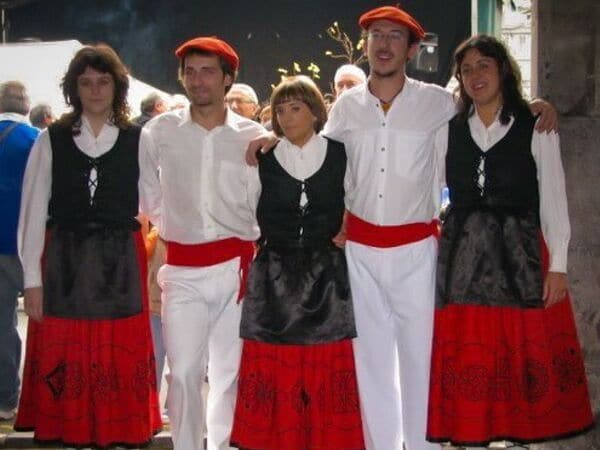 Attend a Basque Festival
Some of my favorite days in San Sebastian involved visits to local festivals in villages outside of the city.  Basque festivals present tourists with a great opportunity to meet the locals, eat their delicious foods, see traditional dances, and learn more about the Basque culture.  There's almost always some sort of event taking place, you just have to do a little bit of internet research to figure out where the festivals are while you are there.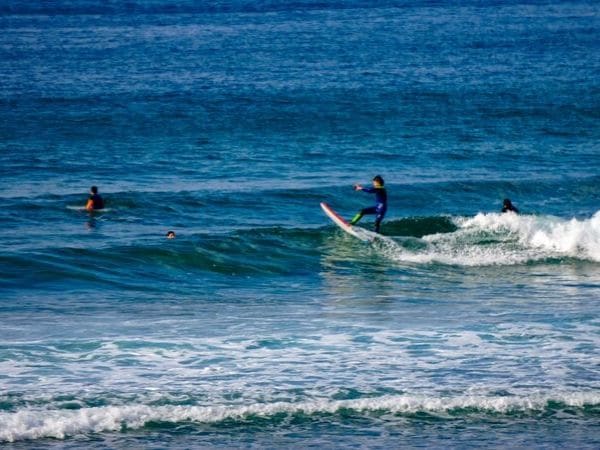 Go Surfing (Or Take a Lesson!)
One outdoor activity in San Sebastian that I regret never doing was surfing.  People come from all over the world to San Sebastian to surf because the city is known for it's (sometimes gigantic!) waves.  If you see what all the fuss is about, and not miss out on one of Spain's favorite surfing destinations, then head to the Zurriola beach and take a lesson.
Drink Some Basque Wine
A piece of Basque culture that tends to get overlooked is the wine, Txakoli.  It's a white wine that you can drink when you are sampling pintxos, strolling through a festival, or celebrating Santo Tomas on December 21st.  Another way to experience Txakoli is by heading out to a local vineyard, and taking a wine tour there.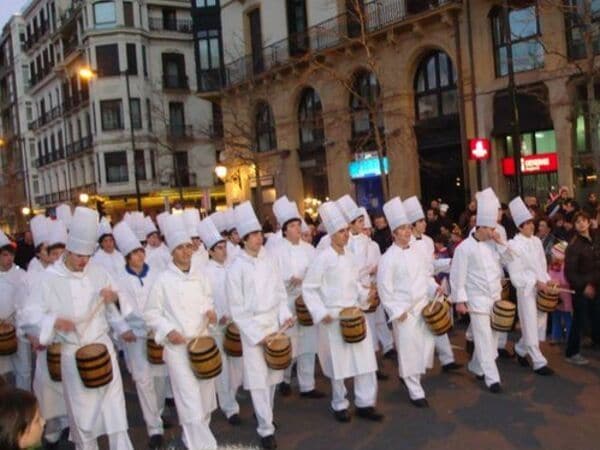 Experience the Tamborrada Festival
The Tamborrada is one of San Sebastian's coolest festivals.  It takes place on January 20th and the entire city stops everything it's doing just to bang on the drums, nonstop, for 24 hours straight.  You'll see parades with people of all ages, dressed up, and playing the drums as they stroll through the streets.  The atmosphere is great, and you can even get in on the action as well by buying a mini-drum at the store beforehand.  I personally carried mine with me as I started celebrating with the locals on the 19th to the wee hours of the morning on the 20th.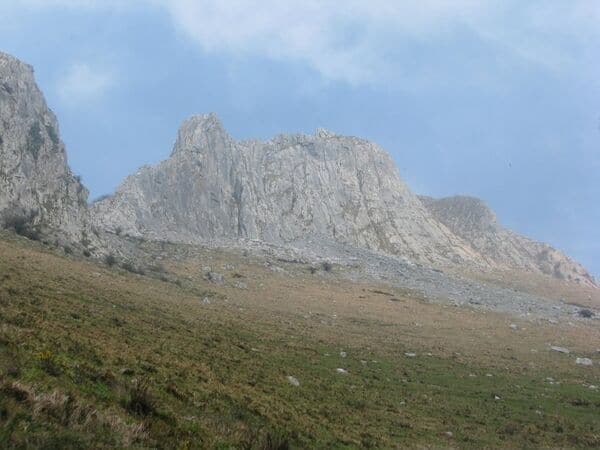 Climb Up the Txindoki
When you see the Txindoki from afar, you probably won't want to climb it.  It looks like you'd just fall off the mountain when you get to the peak. Fortunately though, the climb is not as bad as it looks.  Anyone who is in decent physical shape came make it to the top of this daunting looking mountain, and with its' spectacular views at the peak, it's well worth it.  Just don't forget to bring a bocata (sandwich) before you go…
Eat the Best Sandwich in San Sebastian
Whenever tourists come to San Sebastian, they seem to become semi-obsessed with pintxos, and while those are a huge part of San Sebastian's culinary culture, you shouldn't miss out on the other local favorites, such as the bocatas (sandwiches).  Locals eat bocatas all the time – for lunch, before a soccer game, during a hike, or before a night out at the Parte Vieja.  It's also an ideal snack while you are touring around the city.  The best place to eat bocatas in is at the Juantxo Taberna.  You'll always find the locals there.
Kayak to Santa Clara Island
Most people just look at the Santa Clara island, admire it's view, and think that it would be the perfect background for an instagram shot.  Yet, few of these people actually venture across the bay and explore it.  So, if you are feeling a little adventurous, rent a kayak and make your way to the island.
Go to a Real Sociedad Soccer Match
The Real Sociedad is San Sebastian's soccer team, and a fun way to get in on the soccer culture in Spain.  The best game is the derby with San Sebastian's rival Atletico Bilbao.  The atmosphere in the streets is nuts, and there's always a good party after the game.  Also, matches against top-tier clubs such as Barcelona and Madrid come with added excitement as well.
Drink a Kalimotxo When You Party
A kalimotxo (pronounced cali – mocho) is not classiest drink, but it is an integral part of the San Sebastian's nightlife culture, and you shouldn't leave without trying it.  Kalimotxos are essentially the ingenious creation of mixing wine and coke together.  They are beloved by the younger generation and a perfect drink to have after you are already tipsy and don't care what you are drinking anyway.
Stay in Gros
If I had to give you a recommendation of where to stay in San Sebastian, I would probably tell you rent out an Airbnb in Gros.  It's close to the city center, and it is also a more residential neighborhood, which is beneficial for those who want to get a better feel for how the locals live.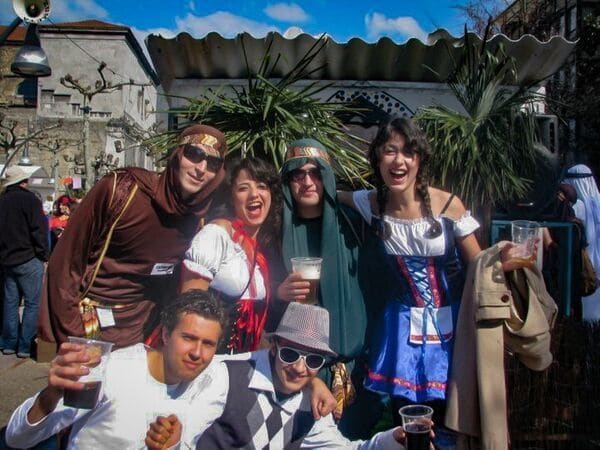 Head to Tolosa for the Best Carnival Party
I can't remember going to a carnival party where I had more fun.  Tolosa's well-known carnival week is a must for anyone who is visiting the Basque Country in February.  The festival is unique in that, you can actually interact with the people in each float, instead of just watching them dance or beat on some drums as they march by.  Also, some floats will give out pintxos, while others will provide you with drinks.  You can basically go float hopping and have fun engaging with all of the locals. It's simply a blast.
Cook at a Basque Sociedad
Sociedades (societies) are another aspect of Basque culture that also seemed to be glossed over by the tourists.  The reason being is that they are so hard to get into, it just doesn't make sense for most tourists to even know about it.  Sociedades are clubs where traditionally men have cooked and eaten together (although women are joining in more and more!).  It's a social aspect of the Basque culture, and a great way to get together with friends.  If you want to experience a Sociedad in San Sebastian, you'll have to be either really good at making friends, or you can go on a sociedad tour.  Of course, the tour is not going to be as authentic of an experience.
Buy an Ice Cream and Take a Stroll
This tip may sound simple, but it's one thing the locals love to do.  Whenever the sun creeps out from behind those infamous clouds, you will see the streets filling up with people who are simply "dando la vuelta", or having a stroll around the city.  It's truly a favorite pastime in San Sebastian.  Of course, it's not just enough to go for a walk, most locals love to grab an ice cream at the Gelateria Boulevard to accompany them on their outing.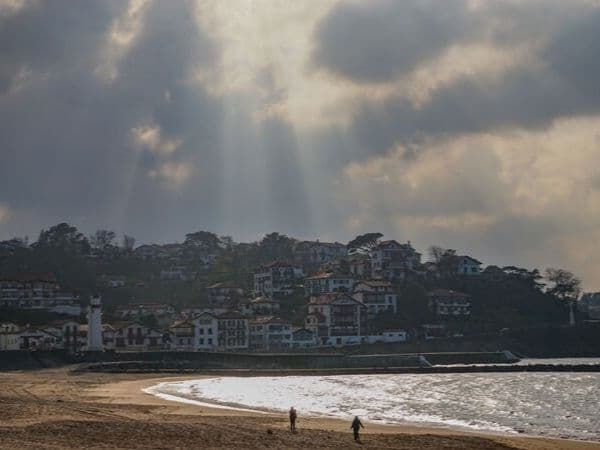 Spend a Day in France
France is a short distance from San Sebastian, so why wouldn't you cross the border and eat a few crepes?  You can go to a beach city like Biarritz or Saint-Jean-de-Luz or even take a trip up to the well known wine city of Bordeux.
Watch Basque Sports
It's not just about soccer.  The Basque Country also has their own sports, which are known as the "herri kirolak".  They originate from the farming lifestyle that was central to the Basque way of life in the past, and include competitions such as wood chopping, stone lifting, hole drilling, and tug of war.  If you are there during one of their strong man competitions, you've got to check it out!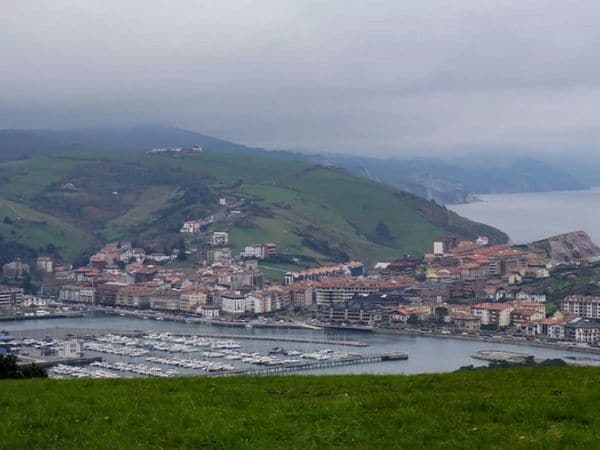 Don't Forget Your Umbrella
The xiri miri (pronounced shiri miri) is the constant drizzle of rain that descends upon the Basque Country more often than one would like.  The Basques are so use to this xiri miri, and really rain in general, that they typically carry an umbrella wherever they go.  So, make sure that you do the same!  You never know when it's going to randomly start raining and San Sebastian (maybe even sideways!), and you'll be thankful for being prepared in these moments.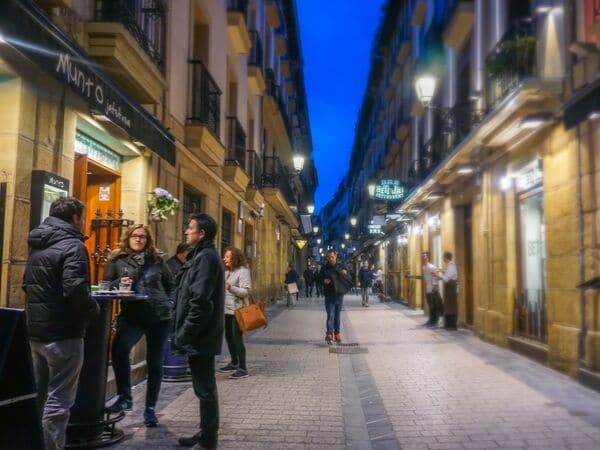 Have a Drink in the Streets
Take a look at the picture above.  Do you see the locals on the left side of the picture?  Do you see how they are having a drink in the street?  That's typical in San Sebastian.  So, forget those comfy chairs, and head outside to drink in the streets (standing up of course!).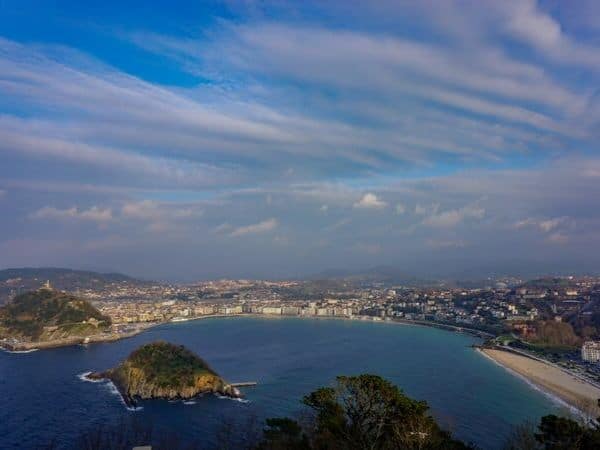 Don't Say Sebastian! Call it Donostia
I know I have been using the name San Sebastian throughout this article, but… the locals actually call it Donostia.  It's the Basque word for San Sebastian, and if you use it, the locals will surely be impressed.