Portland, Oregon | The Perfect Day with a Twist
Portland, Oregon. It's been, well, discovered. Chances are, that's why you're here – you've discovered Portland for the mecca of greenery, outdoor activity, killer eating and drinking, and open-mindedness that it is. We all love these things about the Rose City, but what we don't love so much is spending our Saturdays and Sundays waiting in line outside of the latest trendy cafés and hip watering holes.
I'll give you a little rundown of what might be, for most people, the ideal day in PDX – and after each option, I'll throw you a second idea – one that will be a little less crowded, a little off the beaten track. The local's perfect day, if you will. Isn't that what the hipster attitude is all about, anyway?
6:00 A.M.
Get on up (like the Portlanders do) and get active. Most people will be biking this morning – and we don't blame them, Portland is, after all renowned for it's bicycle-accessible roads and paths across the Metro and surrounding areas.
Fighting through herds of frantic bikers not your thing? Me neither. Opt for a serene morning yoga class at Sellwood's yogaRIOT studio – you can grab a cup of hot tea or kombucha after class and chat with your instructors.
10:00 A.M.
​Brunch. Portland loves brunch. Portland also loves Jam Cafe on Southeast Hawthorne Boulevard – and consequently, Portland loves to stand in line. Yes, jam's pretty good.
But standing in the rain? Not my cup of tea.  Head over the Willamette to Fuller's – an old-timey joint with only counter seats, greasy menus, and a damn good omelet. It's on the edge of the swanky Pearl District, setting you up for a lovely jaunt around the area to work off your big breakfast.
1:00 P.M.
Lunchtime – or just a snack, since brunch wasn't too long ago. Join the throngs outside Downtown's Voodoo Doughnut or the Waffle Window on Hawthorne (they really are great!) but be prepared to wait a while.
Still craving a sweet or savory snack?  Coco Donuts on Broadway is just as delicious, and Southeast's actively new Off the Waffle can hook it up with a loaded waffle – and an actual setting in which to eat it.
Afternoon
Take a walk. Everyone else is heading out to Multnomah Falls in the Gorge – and it's gorgeous, but save your Gorge adventuring for another day, and a trail where you won't be dodging selfie sticks.
Stick around town and take a walk in Forest Park – known for being the largest urban forest in the United States. With a network of trails for all ages and levels, it's an event for any two or four-legged friend.
7:00 P.M.
Screen Door is a PDX fave, serving crispy fried chicken and other hearty Southern cuisine – deliciously ironic fare for the crowds of gluten-free vegans who tend to frequent trendy Portland spots. It's good, but order it on Postmates instead.
Still craving eats that remind you of warmer days? Head to the Woodstock neighborhood and stop in the Delta Café – delicious for any meal, but no matter when you go, don't skip the hush puppies.
10:00 PM
There's bound to be a crowd at Gold Dust Meridian on Southeast Hawthorne Boulevard, or even at its popular and somewhat spendy sidekick Whiskey Soda Lounge just a few streets down on Southeast Division. Looking for a more low-key atmosphere and (gasp!) affordable drinks?
$6 Mason jars brimming with potent, cleverly titled cocktails are the name of the game at Broadway's hip and slightly grungy Swift Lounge . Still too loud? Check out Bonfire on Southeast Stark – cozy booths, affordable beer and cocktails, and of course – a pool table.
Sleeping
The Nines is Portland's ritziest – it still feels new to most locals, as it's taken over the old, historic Meier and Frank building with it's delicious restaurants, bars, and comfortable rooms. But is it really worth the price tag?
I don't think I need to say it, but I will – get an AirBnB and experience the hospitality (and incredible eccentricity) of Portlanders for yourself.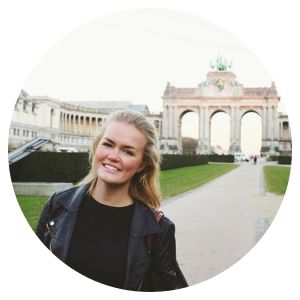 May is a puppy and fitness enthusiast, amateur world traveler, and aspiring fashion and lifestyle blogger at The PDX Belle.  When she's not dreaming about faraway places, you can find her guzzling coffee, looking at kitchens on Pinterest, or wishing that bagels didn't have carbs. If you like what you see and appreciate her down-to-earth writing style and the occasional bad joke, head over to her blog for more! ​